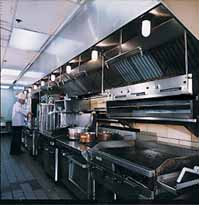 Fire Safety provides expert suppression system installation as well as semi-annual maintenance on all suppression systems. From initial system design, to submission of system drawings, to secure permits. Our licensed technicians provide all elements necessary to install and maintain a fully integrated fire suppression system.
Should you operate a facility that is considering a suppression system for a kitchen, paint booth or off-road equipment contact Fire Safety today at 800-269-0650.
We also welcome the opportunity to quote semi-annual maintenance on existing suppression systems.
Fire Suppression System Services
Distributor of Range Guard UL300 Wet Chemical Hood and Duct kitchen fire suppression systems. Premier protection for your kitchen.
Distribution of Badger Industrial Dry Chemical fire suppression systems. This includes Industrial Paint booth facilities as well as off road industrial equipment applications.
Detailed consultation to include design and CAD Drawings
Submission and monitoring of suppression system plans, permits and approvals.
On-site coordinating and installation
Final inspection and suppression system test for the Authority having Jurisdiction.
Semi-annual suppression system inspections for all brands of systems in accordance with requirements of the Authority having Jurisdiction as well as manufacturers' recommendations. NFPA and OSHA compliant.
Upgrades to existing fire suppression systems.