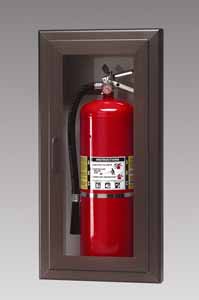 Both NFPA and OSHA detail in their standards for portable fire extinguishers that "Portable Fire Extinguishers" shall be securely installed on a hangar or bracket or placed in cabinets or wall recesses.
Fire Safety works closely with the following major cabinet suppliers to meet our customers' requirements for both indoor and outdoor cabinets.
Excab
Cato
Brooks Equipment
Lawson
Modern Metal Products
J.L. Industries
Whether your needs include cabinets fabricated of steel, aluminum, anodized aluminum or plastic and designed as wall mount, recessed or semi-recessed simply call our experienced staff on 800-269-0650 with your wall opening measurements and we will provide options to meet your cabinet requirements.