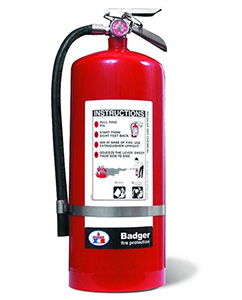 We are a licensed fire protection contractor in West Virginia, Virginia and Maryland. All work performed meets and in most instances exceeds all State, Local OSHA and NFPA requirements. (MSHA Certified). We proudly carry Badger and Amerex brand fire extinguishers, both recognized to be the best commercial/industrial extinguishers available today. We sell and service ABC, BC, Co2, Purple K, Foam, Class D, "K" Class, & Halotron-1 type extinguishers.
Fire Extinguisher Services
On-site service and inspection for all major brands and types of portable, fixed and wheeled fire extinguishers.
Inspections tailored to customers' needs, i.e. Monthly, Quarterly, Semi-Annual or Annual basis.
Walk through inspections and corresponding recommendations of extinguisher size and placement.
DOT approved and monitored Hydro-test recertification facility.